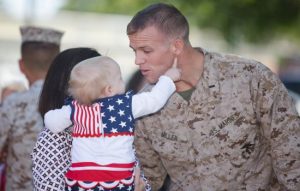 The New Parent Support Group is a military program for all military personnel who are pregnant and their spouse. It has its roots back in World War Two, when military authorities realized that young couples thrown into the maelstrom of war needed help in understanding their duties and responsibilities when it came to fostering new life.
Today the program is available at every major American military installation, and in places where it is not physically on site its programs and personnel can be accessed over the internet.
One of the most important aspects of the program is that helps new military parents find local support networks for things like medical care, post partum depression, financial counseling, breastfeeding, and other challenges that are unique to new parents.
Perhaps the most vital benefit of the New Parent Program is that it lets new parents in the military know that they are not alone, and that their emotional, physical, and spiritual needs can be met by trained experts who are just a few blocks away, or an email or phone call away.
To find the nearest New Parent Program to you, just go to Military Installations Locator and use the drop down menu to go to the New Parent Support Program.