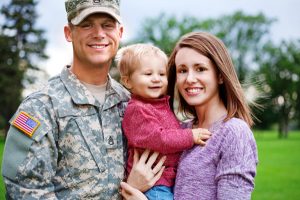 Parenting in the military is always a challenge, but that doesn't mean it can't be done well, with a lot of fun and good memories to go along with it!i
With the holidays so near, it's a good idea to work together to create some special traditions and memories for your children. Instead of focusing on a family member who has to be away for the holidays or the dangers and distractions of the military lifestyle, gather all the family members together for projects to help others at this time of year.
Gather food on your base for a local food shelf. Collect gently used blankets, mittens, hats, scarves, and purchase hygienic supplies like toothpaste, toothbrushes, and bars of soap, and  for a local homeless shelter. Make this a family holiday tradition for your children and they'll soon be more excited about the warm feeling that comes from helping others than their delight in their own presents!